Atlantica
Blended Wing & Body Five Place Simplebuild™

5 Seats 240 knots 2000nm
Performance
Top Speed
240 Knots TAS
VNE
220 Knots IAS
Stall Speed
58 Knots at Gross
Climb at Gross Weight
2000 Ft/Min
Climb at Light Weight
3000+ Ft/Min
Design Flight Level
10,000 - 18,000 Ft
Range
1800 Nautical Miles
External Dimensions
Length
24 Feet
Span
28 Feet
Internal Dimensions
Cabin Length
96 Inches
Cabin Height
42.5 Inches
Rear Seat Width
55 Inches
Cargo Areas (one each side)
15 x 15 x 48 Inches
Maximum Width including Cargo
83 Inches
Weights and Balance
Seats
5
Dry Weight
1250 Lbs
Gross Weight
2500 Lbs
Fuel
90 US Gallons
Power
LOM Super-charged
160 or 235 HP
Other
Gear
Fixed or Retractable
Prop
Fixed or Constant Speed
All Plane Chute
Designed-in
Simplebuild Airframe Kit
Monolithic pressure and oven molding with certified aircraft epoxy used on all composite components. Carbon/Glass/Kevlar composites are primed and filled in mold to eliminate porosity and minimize finish work prior to final paint. All hardware is AN, stainless, plated or painted. Step by step manuals with outlines, hints, notes, CAD assembly drawings and photos will be provided on CD with updates on the web. (Hard copy available on request) Part documentation and trace ability is similar to certified aircraft.
Centerbody Kit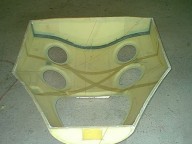 Cabin capsule: The cabin is comprised of two main components. The top and bottom halves use quasi glass on thick structural foam with self-aligning butt seams. Co-molded carbon center spar, wing and engine attach points, Kevlar bands and main gear bed. Jig drilled for easy hardware mounting. Carbon cowlings, nose cone and gear wells.
Interior components: Integrated baggage pillars and armrest. Cantilever radio box. Custom carbon seats with adjustable head rests. "Soft" polymer safety panel and visor. Soft wide seat belts. Energy absorbing seat pedestals, mechanics and sliders. Easy access clam shell door with quick mount pre-molded jams, latches, hinges, seals and locks. Up to date acoustic fire retardant safety padding insulation for firewall and entire cabin. Pre-molded interior window frames.
Control system: Push rods, bell cranks, pressure seal, elevon mixer, left and right joy sticks, rudder pedals comes with hydraulic brake master cylinders and all hardware.
Epoxy Adhesive, resin and glass reinforcement: Two-part "caulking gun" type dispenser with mixer tips. Sand paper, cups and spreaders for assembly. No large contouring … minimum seam fairing required.
Landing Gear: Oleo shock absorption with hydraulic (not friction) shimmy dampener. Magnesium wheels and dual puck brakes. Axles, bearings, tubes, 6 ply tires, AN bolts and AN lock nuts.
All Plane Chutes: Low altitude or high velocity deployment capability. Insulated carbon box. (Chutes have 5 year repack, 15 year total life…not shipped until the time of aircraft completion)
Windows: Laminated impact and scratch resistant polycarbonate. Molded with joggle and flush mounted at factory as structure of aircraft.
Antennas: Materials for internal installation of dipole Com,VOR Nav, GS, MB
Wing Kit
| | |
| --- | --- |
| | (Purchased with or separate from Centerbody kit.) |
Wings: Semi-hollow wings with winglets co-molded and internal structures pre-bonded. Carbon Wings/winglets/elevons/ flaps/rudders Wings with winglets, fuel tanks. Cable conduits for rudders, push rods and lighting. Lightening protection embedded with leads for nose and gear connections. Bell cranks and wells for all controls. Control hinge and wing attach reinforcements co-molded and pre-drilled. Fuel tank close out rib, sealer, foam, vent and inverted pickups. All hardware and locking stainless gas caps provided.